TEXT GUIDE
Let's see how to display the WooCommerce products list on the front-end to integrate it into the front-end dashboard menu.
In addition, we will show you how to simplify the product creation form by removing all unnecessary elements and leave only the elements that are essential to create and manage the products.
1- Create a new page on the front-end dashboard site
Go to Network Admin > Sites and click Dashboard on the front-end dashboard site.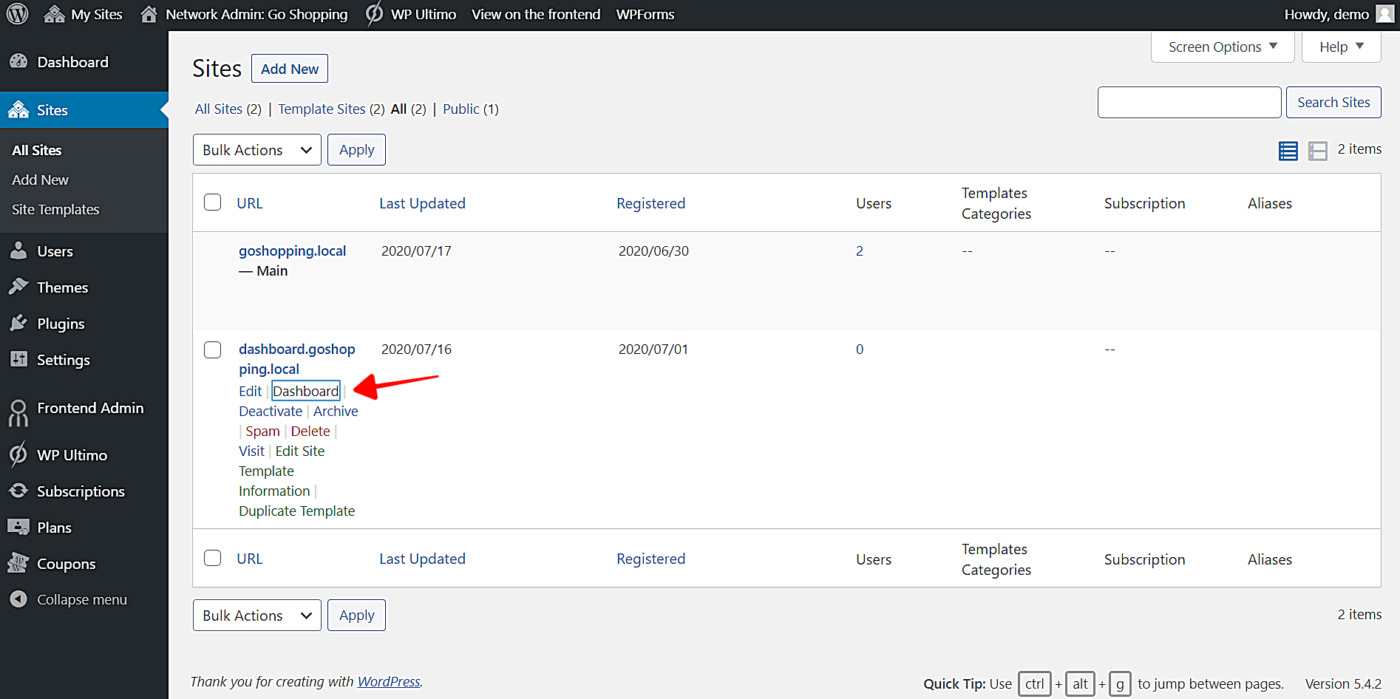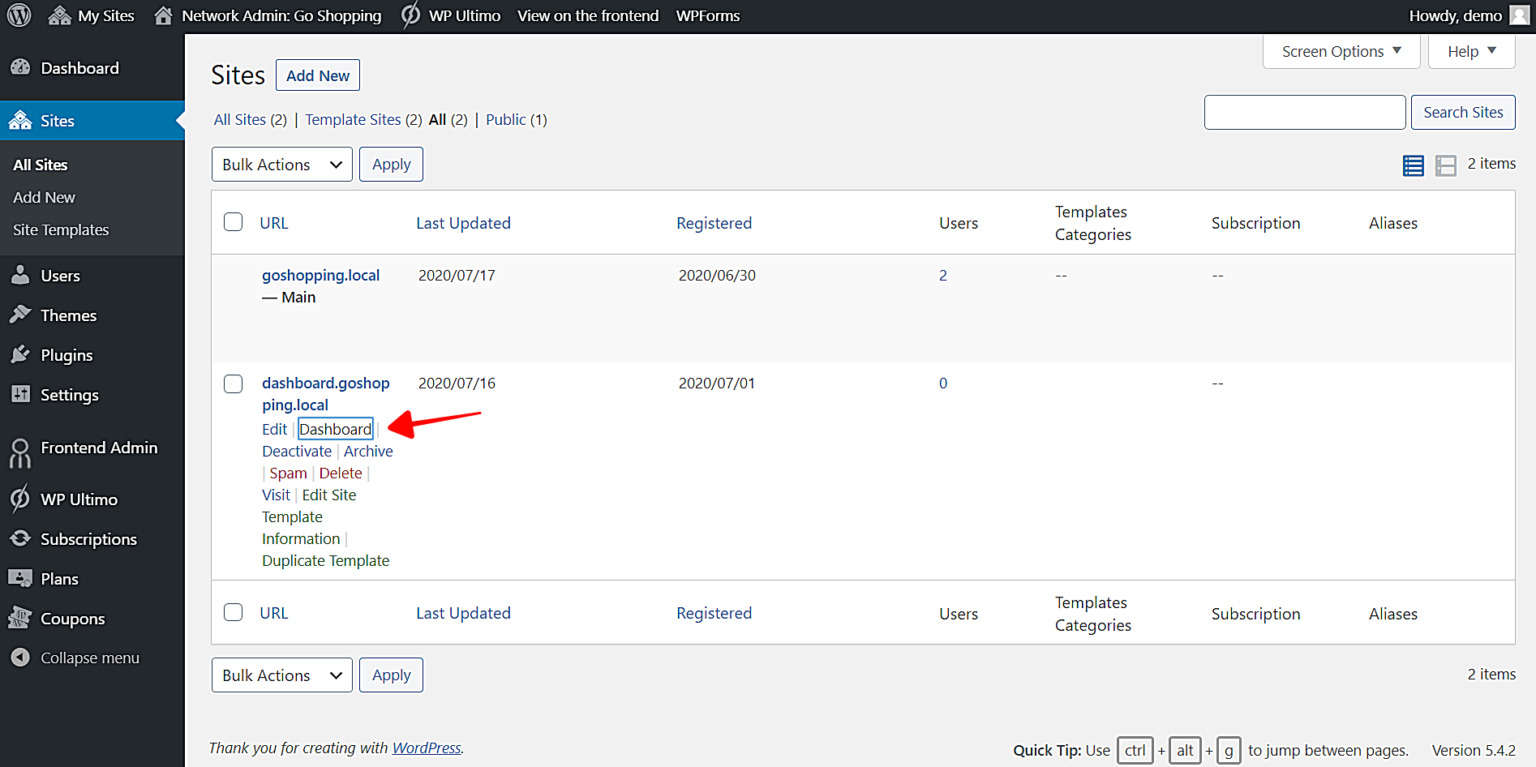 Now go to Pages and click Add New to create a new page.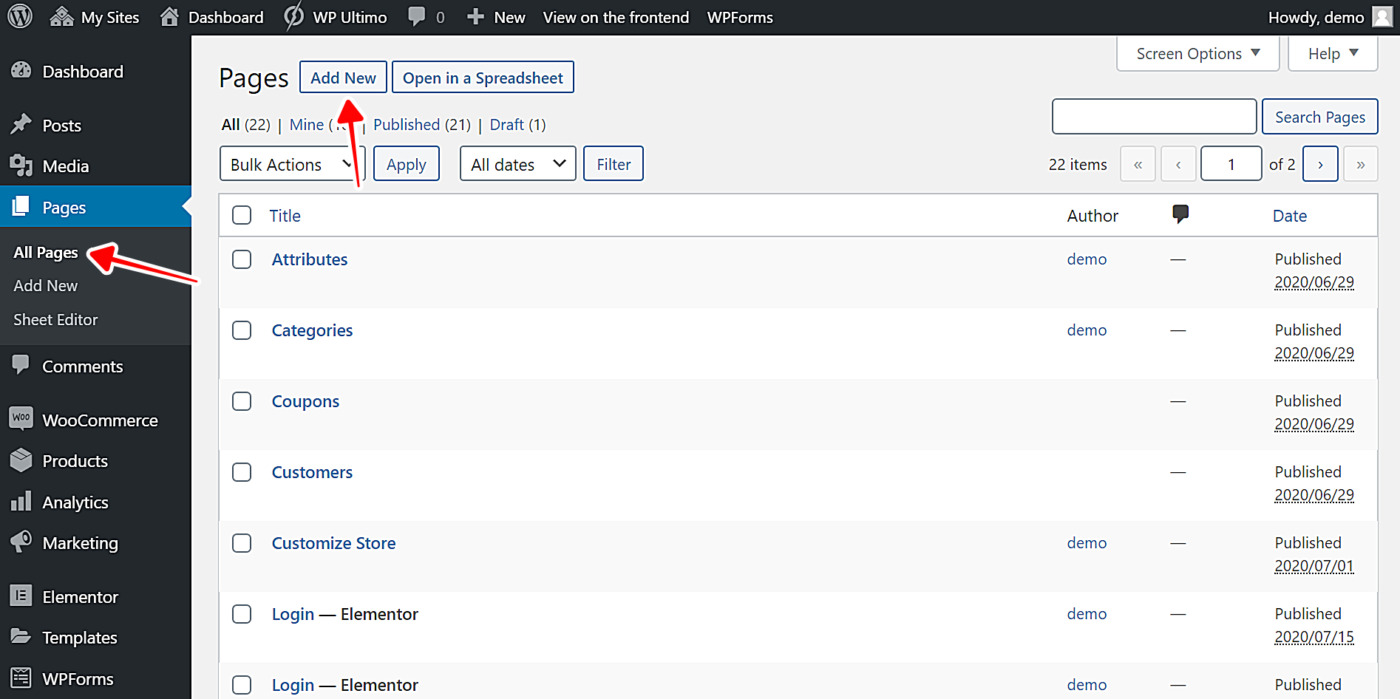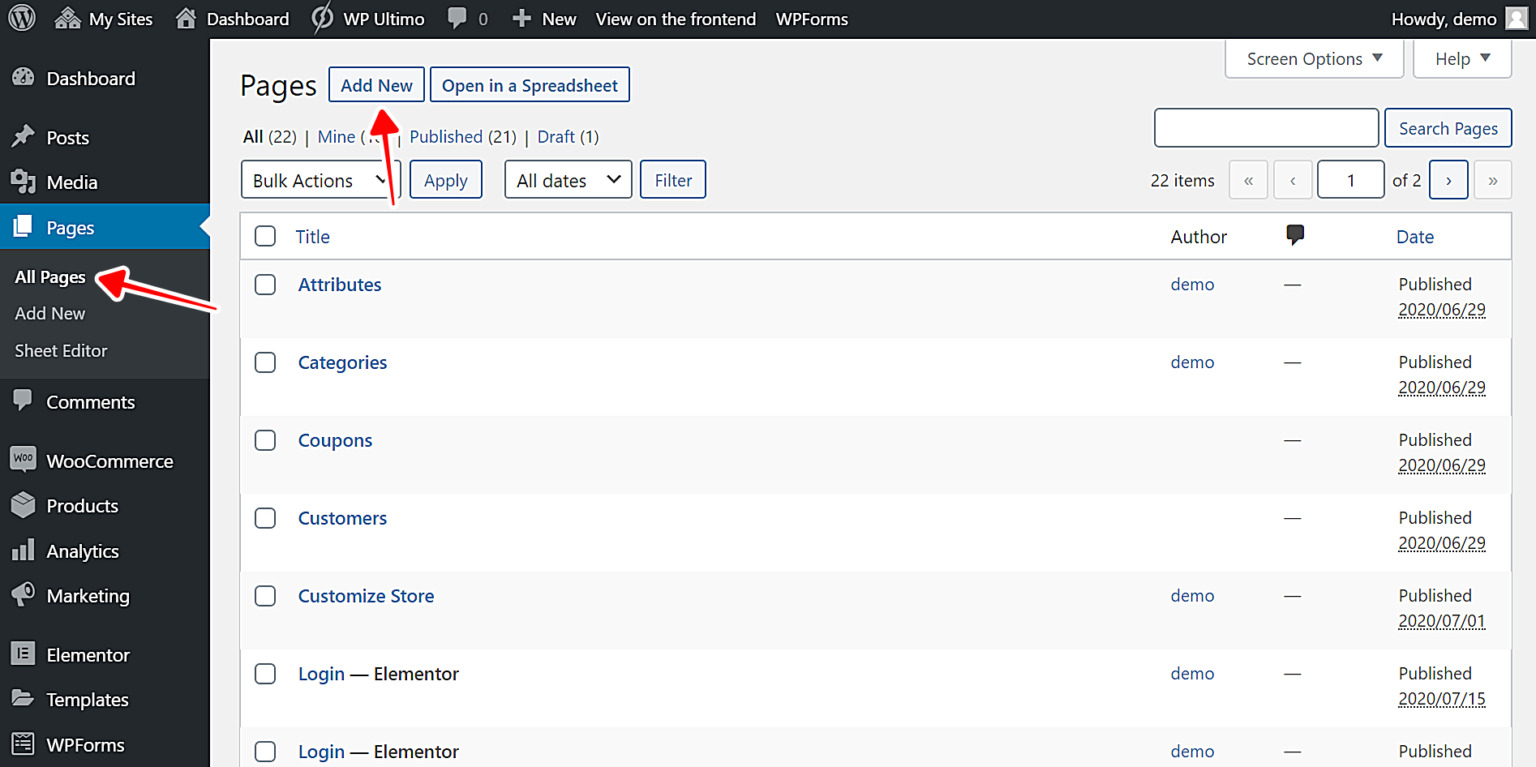 After that, enter the page title and enter the following shortcode in the page content:
[vg_display_admin_page page_url="edit.php?post_type=product"]
Then, click Preview to configure the page on the frontend.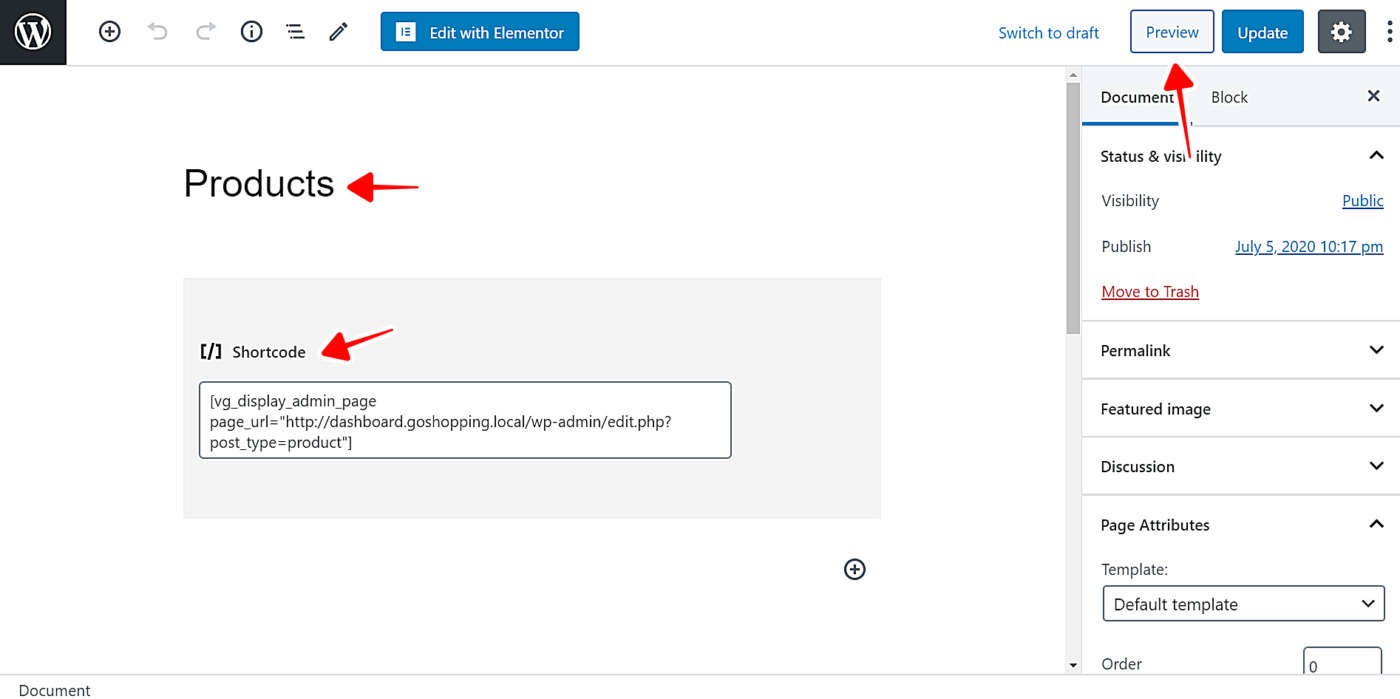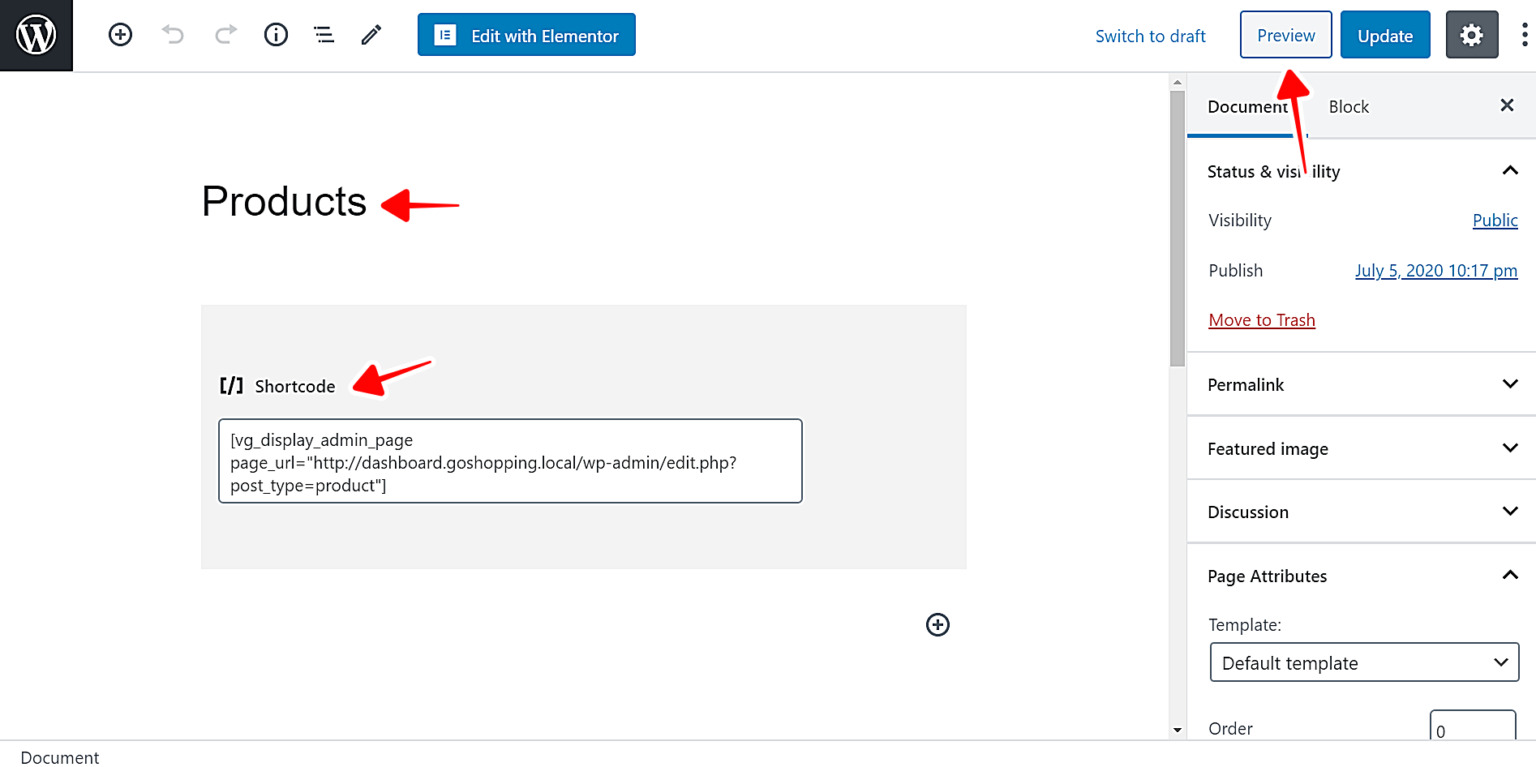 2- Configure the front-end products page
You need to configure the new frontend page so it looks simplified, clean, and intuitive for users.
The Quick Settings panel shows you WP Frontend Admin's settings to configure the page. You can start configuring it by selecting the following values:
Page Title: Enter the page title in this field.
URL Slug: Enter the page slug on this page.
Page Template: Default
Add page to this menu: Select the main menu.
After selecting the title, slug, template, and menu, you can hide any unnecessary elements. This is really useful to simplify the frontend pages you're creating and give your users a simplified, intuitive experience.
Click Hide element.

Click the element you want to hide.

Repeat this with each element.
You can also edit the wp-admin admin page texts. This allows you to make texts shorted or clearer.
Click Edit texts.

Change all the texts you want.

Click Stop editing texts.
On the products list, you can disable some columns to simplify the products table.
Just tick the columns you want to hide in Disabled columns.
In The page is available for these WP Ultimo Plans, you'll see the plans you have created for your platform. You can tick the plans for which the page will be available, however, this page is essential if your users will create an online store.
Finally, you can click Save to apply all the changes and publish the page.
3- Configure the create product form
After saving changes to the product list, configure the Add New form.
Click Add New.
Hide any unnecessary elements by clicking Hide Element and clicking the element you want to hide. Here are some elements you may want to hide:
The Add Media button
The Visual / HTML switcher
The OceanWP Settings
And everything you think users won't need to create new products.
Now you can click Save to apply the changes.
Done!
After configuring the products list and the product creation form, the page will be published and added to the front-end dashboard menu.
This is how the Products page will look on the frontend when users access that page from their sites: