Fortunately, you don't need to create hundreds of different WordPress installations. Instead, we will install the WordPress multisite feature included in WordPress.
What is a WordPress multisite network?
A multi-site network allows you to have several websites using the same WordPress resources. This means you can have thousands of websites using the same WordPress installation, same WordPress plugins, same WordPress themes, hosted on the same server. This is very handy for a platform because it's easier to manage all the websites from the same dashboard and you will install updates once.
Advantages of a WordPress multisite network
One of the great advantages of a multi-site network is that WordPress multisite provides a network dashboard where we can manage the customer sites, enable or disable plugins for all the sites, themes, and any other options for the entire network.
We will use the plugin WP Ultimo, which allows us to sell memberships for the store owners. We can create membership plans and limit the site features based on the plan, including limiting the plugins, themes, storage space, etc.
Also, we will use the plugin WP Frontend Admin, which allows us to create a global front-end dashboard that all users of the network will use to manage their own sites and stores. This dashboard will use your own brand and design, and it will work for the entire network of sites.
How to Install WordPress Multisite and create a multisite network
First, you need to install WordPress as a normal site. Most hosting providers have a one-click install process to get a WordPress site up and running.
After you created the normal WordPress site, you need to follow this tutorial to enable the "WordPress multisite" feature.
Important
Make sure to select the Subdomain feature at the moment of creating your multi-site network. This way, your platform will have addresses like dashboard.mynetwork.com, and your customers will create their sites and select their subdomain like store1.mynetwork.com, store2.mynetwork.com, etc.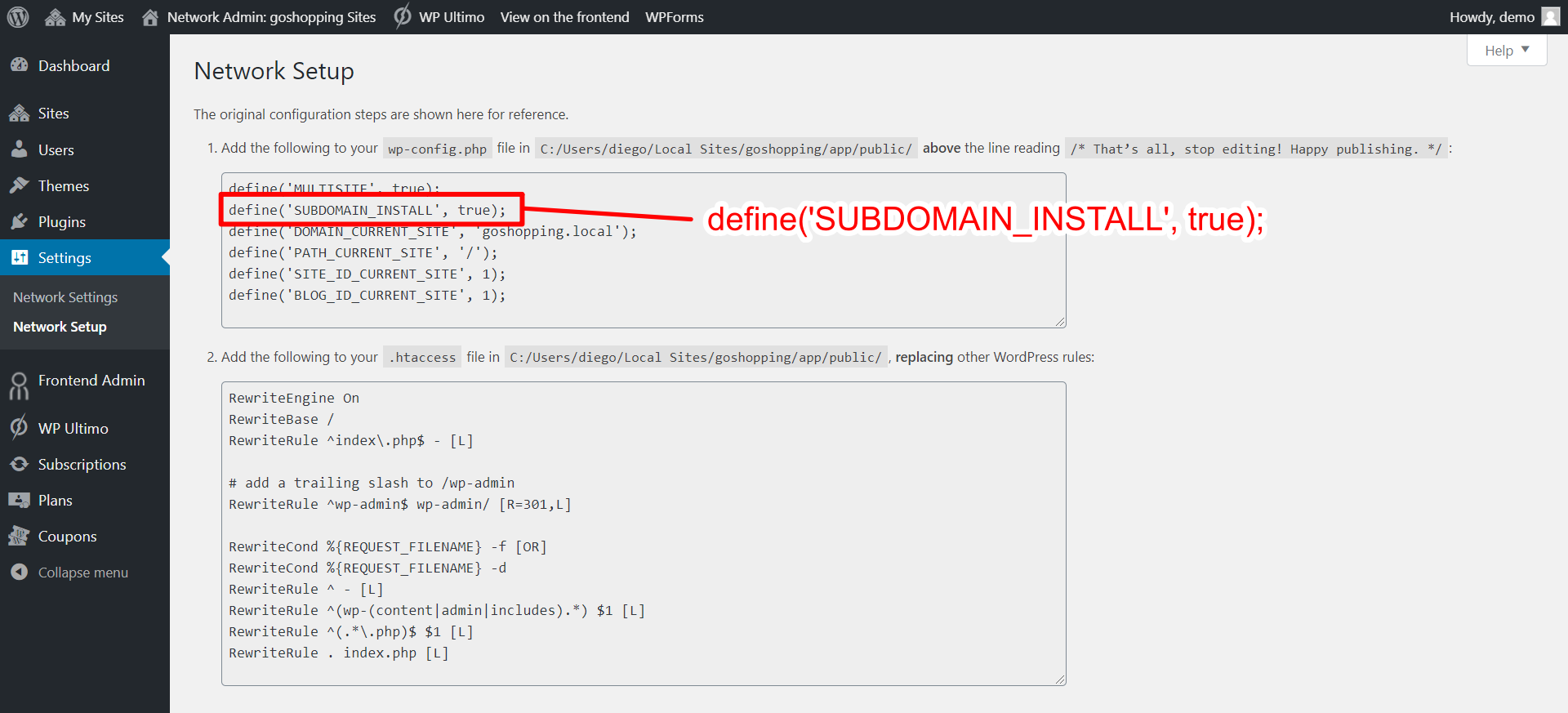 Now you are ready to continue with the creation of your online multi-shop platform.

A multi-store platform contains lots of websites.