Suppose you're leading a community of novel readers. Each of them has their own opinions on the novels all of you're reading this month. Therefore, you want to create a space for them to express their opinions and viewpoints in post-entry form.
For this, you need to allow post submissions on your frontend so that they can write post-entries that you'll check and publish later. That way, your page will be constantly fed, and your visitors will have something to read each time they come to your site. Besides, your community members will feel great to see their opinions published in your blog.
Of course, if it's you who needs it, you would need to program the frontend page from scratch or hire a good programmer who would charge you with good money and last some days or even weeks to do it. On the other hand, if you're a programmer, you can get good money without too much effort.
That's why in this entry we're going to show you how easy it is to allow post submissions on the frontend. You need to install and use the WP Frontend Admin plugin.
You can get it here:
Try plugin for free
You can try the premium plugin on your website for free for 7 days.
---
In a few words, this plugin helps you display admin pages in the frontend with just one click. In this case, you'll display your posts page so that your visitors are allowed to submit posts.
1- Open "Add new post" in wp admin
This is the first step to allow user post submissions. You need to go to Posts > Add New in wp-admin.
2- view it on the frontend
To view your Add New Post page on the frontend, you don't need to program anything. Our plugin does all the programming job. You just need to click on View on the frontend, and in seconds you'll see Add New Post page displayed on the frontend.
3- Configure and publish the page
Once your page is displayed on the frontend, you need to configure its quick settings and appearance. The plugin will display a Quick Settings panel on the left side of the screen where you can select the page's title, URL slug, template, and menu.
You can hide all the elements that your users won't need to use to post blog entries. This will give them a more simplified experience to use exactly the fields they need. For example, you can hide the following elements:
The Add New Post text
The Screen Options and Help dropdowns
The Preview, Status, Visibility, Publish Immediately, and Publish button.
The Format dropdown
Etc.
Basically, what your users need is the Title field, the Body field and the Save draft button. Remember that they won't publish the posts because you're going to check them before publishing.
Therefore, just click on Hide element and then click on the elements you want to hide. This is great because it allows you to customize the page's appearance.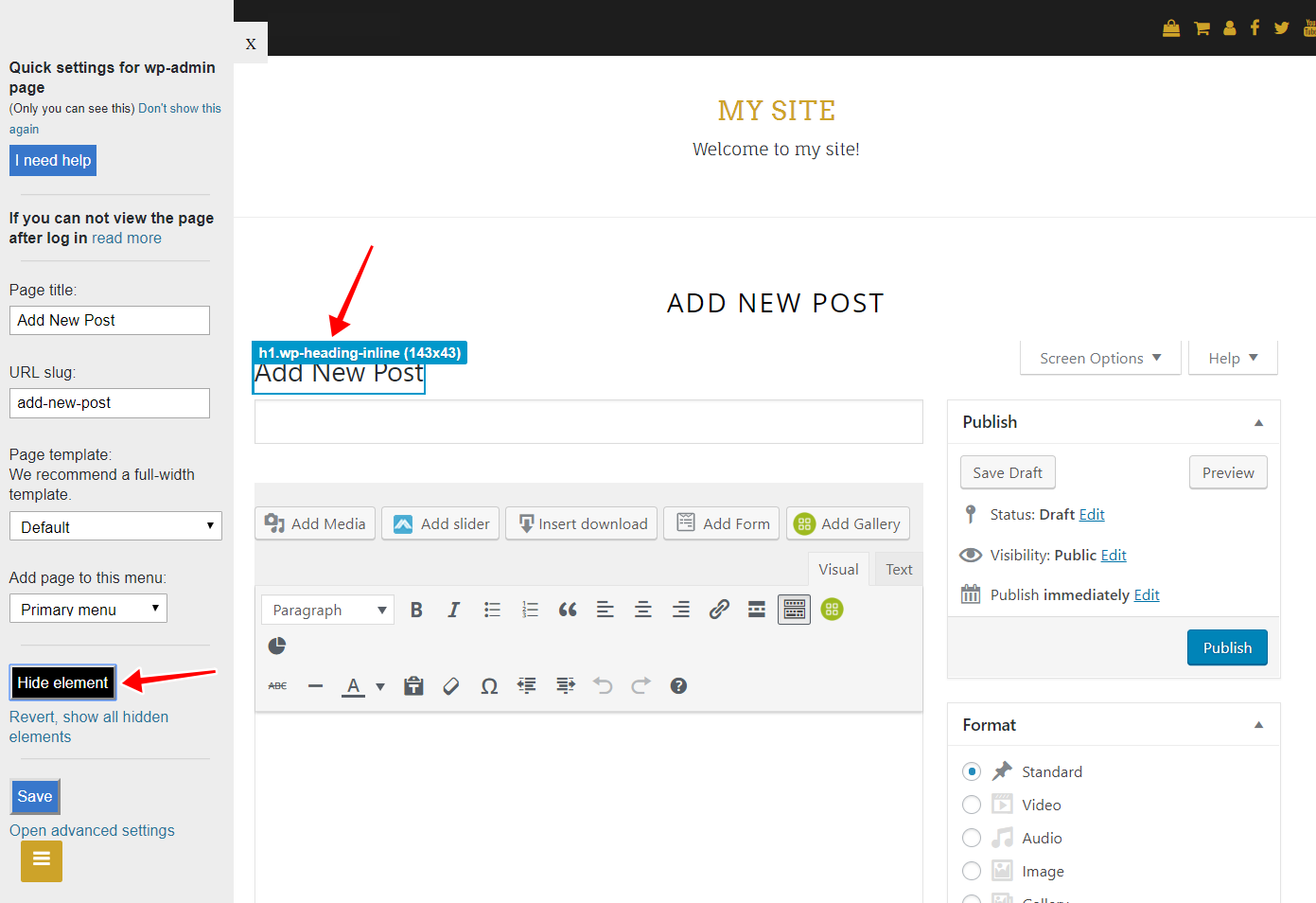 Once you have finished configuring the page's quick settings and appearance, just click on Save to publish the page and allow your users to submit posts.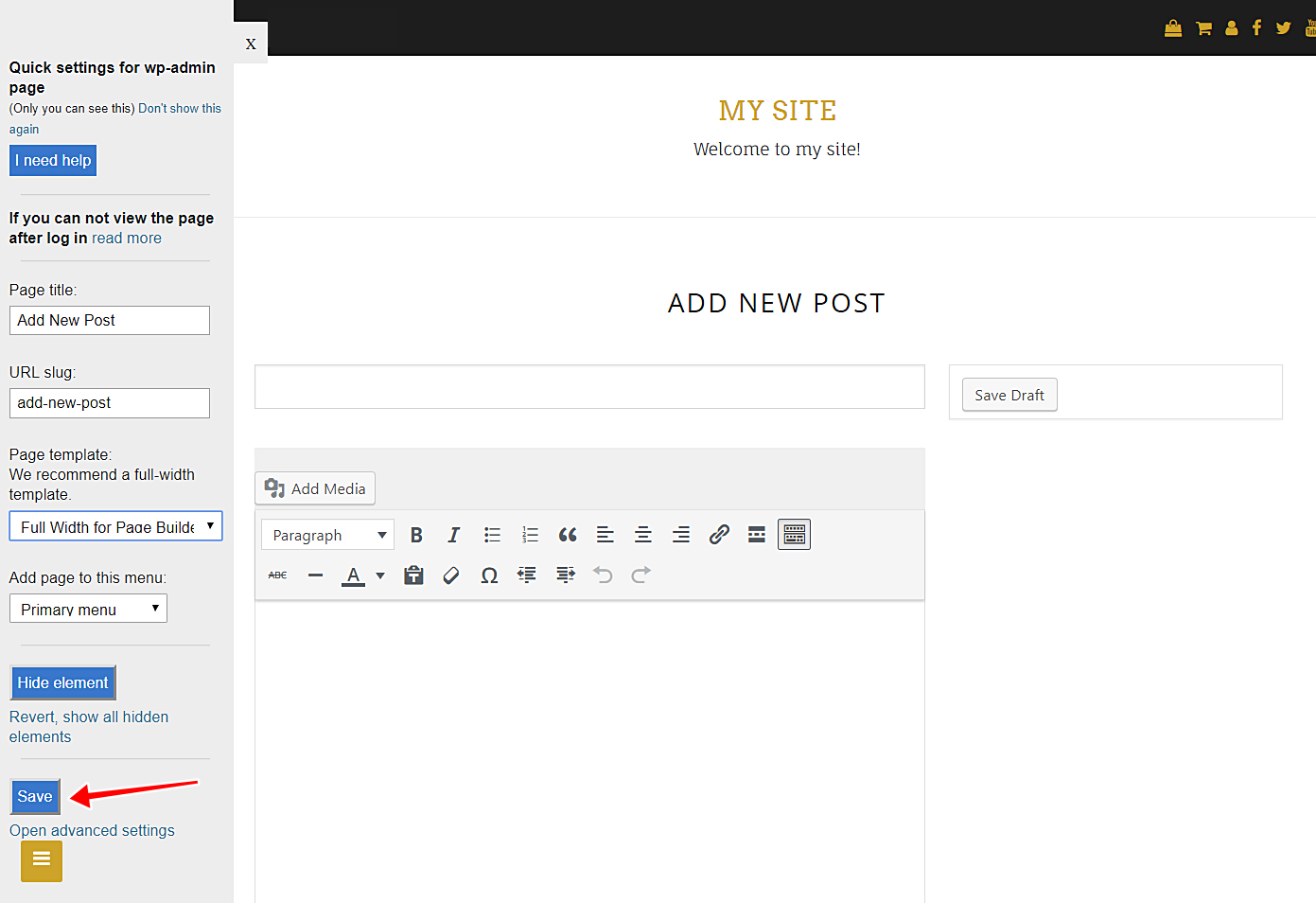 4- Start getting your user post submissions
Once the page's been published, your users will have to log in to submit their posts.
Now your users will have access to create their posts and submit them as drafts.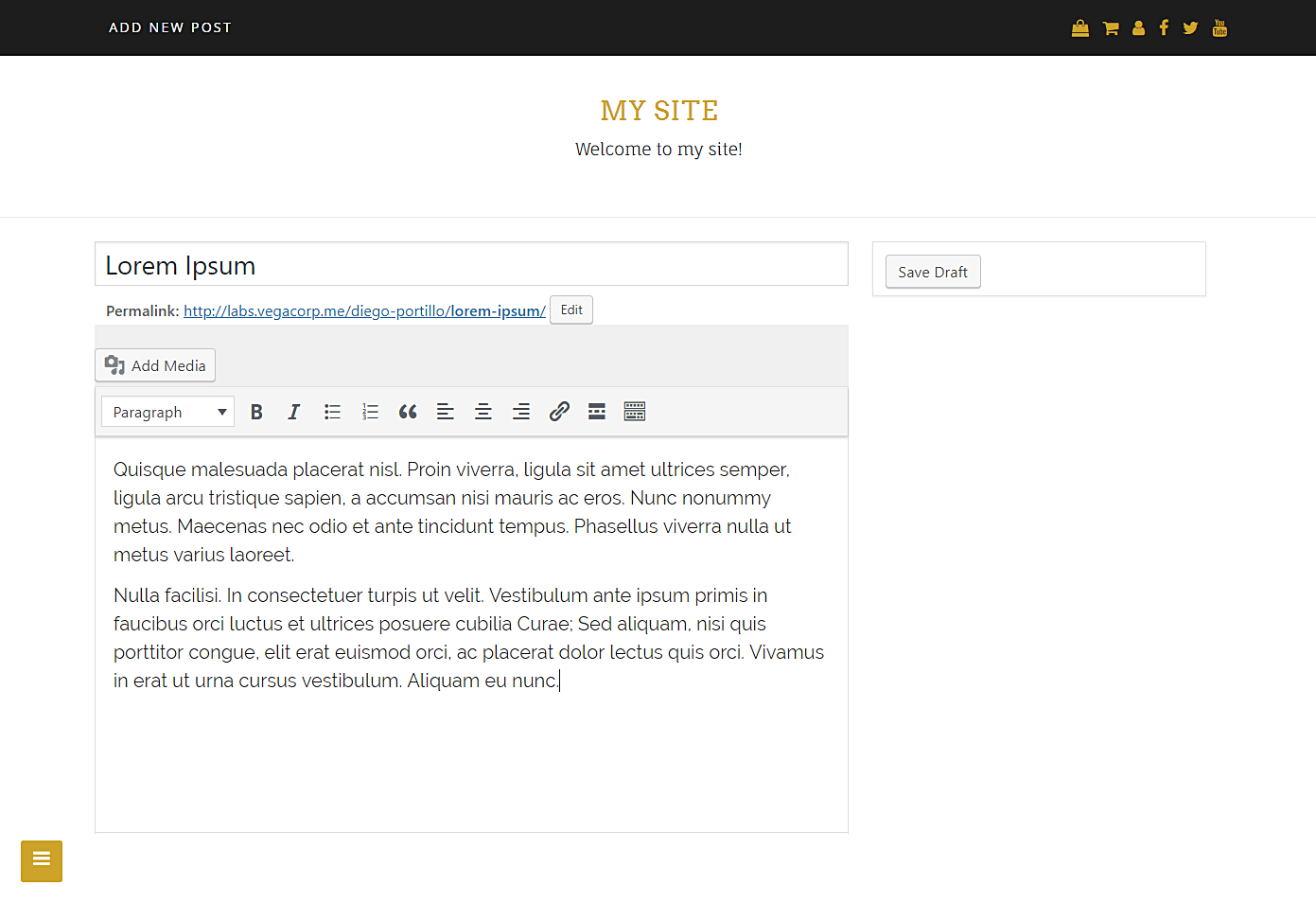 Done!
It's really simple and it only takes some minutes. Now you're ready to start getting posts from your users.
Try plugin for free
You can try the premium plugin on your website for free for 7 days.
---
important questions
1- Can I use other plugins to create web apps?
Yes. You can display any admin page on the frontend, and it works with all WordPress plugins.
2- Is the plugin compatible with page builders?
Yes. You can use it with other page builders such as Elementor, Visual Composer, Gutenberg, Divi, Beaver Builder, WP Page Builder, Page Builder by SiteOrigin, Oxygen, Live Composer, Brizy, and many others to create great sites.
3- What if I cannot see this page on the frontend after login?
If you can not view the page after log in, you need to use one of these roles:
4- How many elements can I hide?
You can hide all elements you want. It all depends on what you need.
Just be careful not to hide elements you might need in the future.
5- What if I want to revert the elements I've hidden?
You can revert that. Just click on Revert below the Hide element button.