TEXT GUIDE
In previous sections, we've shown you how to select the membership plan for each of the wp-admin pages you'll display on the frontend. You can do that on the Quick Settings panel of each page.
In this section, we will show you how to create an Upgrade system so you can display locked features and ask your users to upgrade their membership plan to unlock those features.
WP Frontend Admin has the option to define an upgrade page and redirect users to that page when they open a page that is not available for their membership plan.
Just follow these steps:
1- CREATE THE UPGRADE PLAN PAGE
We could create this page on the Main site, but we'll create it on the Dashboard site because we want the page to be part of the dashboard so users aren't redirected outside this site.
Go to Network Admin > Sites and open the wp-admin panel of the dashboard site.
Once there, go to Pages and click Add New to create a new page.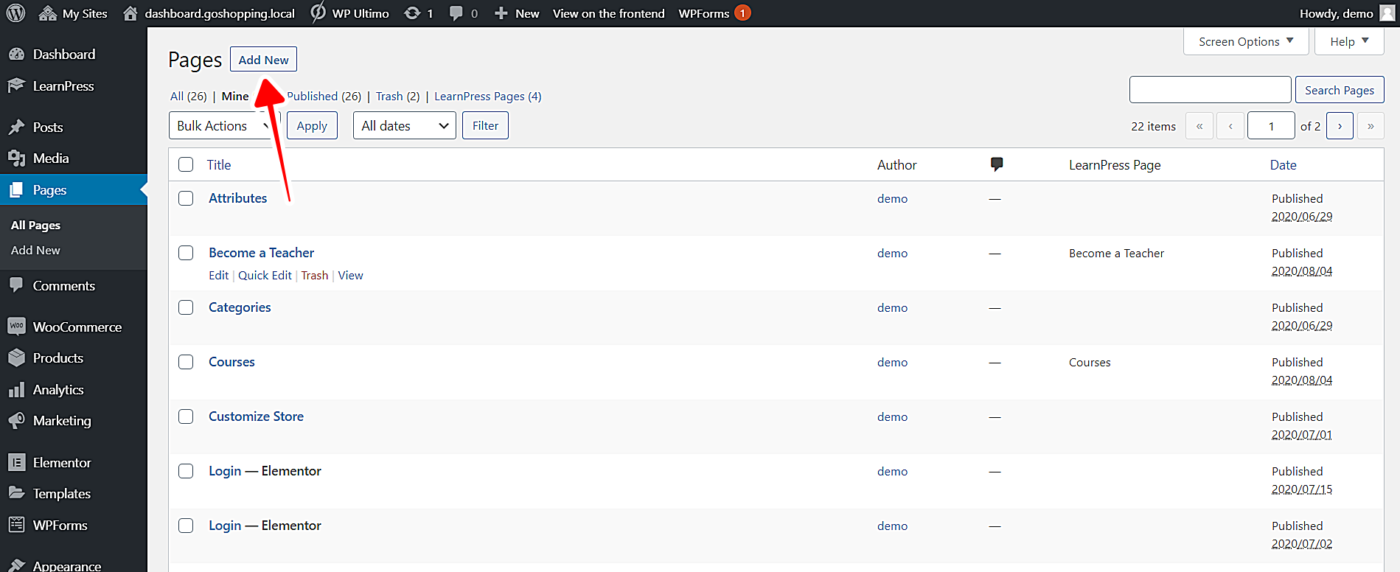 You need to enter the following elements:
Page title: It won't be displayed due to the theme configurations but it will help us identify the page in the future
Logo: You can enter your platform logo as a centered image.
Heading: Enter a heading like Upgrade Your Plan and center it.
Upgrade message: You can enter a message telling the users that the page they're trying to access requires a higher plan and inviting them to upgrade.
Upgrade button: Enter a button that redirects the users to the Membership page of the dashboard, so they will be able to change the plan from there.
Once done, publish the page. This is how our page looks:
2- CONFIGURE THE WRONG PERMISSIONS PAGE
You need to set this page as the wrong permissions page in the WP Frontend Admin global settings so the users are redirected to it every time they try to access a page that is not available for their plan.
Just do this:
Open the Network Admin panel.
Go to WP Frontend Admin > Settings > Access restrictions.
Enter the URL of the page you just created on the Wrong Permissions Page URL field.
Hit Save changes.
3- HOW TO RESTRICT FEATURES BASED ON THE SITE PLAN OR USER MEMBERSHIP
As we showed you in previous sections, when you create or edit a dashboard page, the Quick Settings panel of WP Frontend Admin has the option to select which WP Ultimo plans can use that page.
DONE!
This way it's very easy to create an upgrade system or freemium system.
a) You can have a Free plan in WP Ultimo and force users to upgrade to a paying plan when they need to use an advanced feature.
b) You can have multiple paid plans with different features and ask them to upgrade to a higher plan.