Companies need team work. No company can survive if there's no team working to accomplish its objectives. For example, in an online store, someone must be in charge of creating products and managing the store. Others may be in charge of checking the store and suggesting changes so that the sales improve.
In that case, somebody may need to download the products' information to a CSV file in order to check it or edit it on Excel or Google Sheets.
That's why in this entry we want to show you how easy it is to allow customers to export products to a spreadsheet. For this we'll use the WP Frontend Admin plugin. It allows you to display/edit any wp admin page on the frontend with just one click.
You can get it here:
Once installed and activated, you need to follow these simple steps:
1- Open the products section
You need to open the products section by going to Products in wp admin. After that, you need to click on Export to open the products exporter.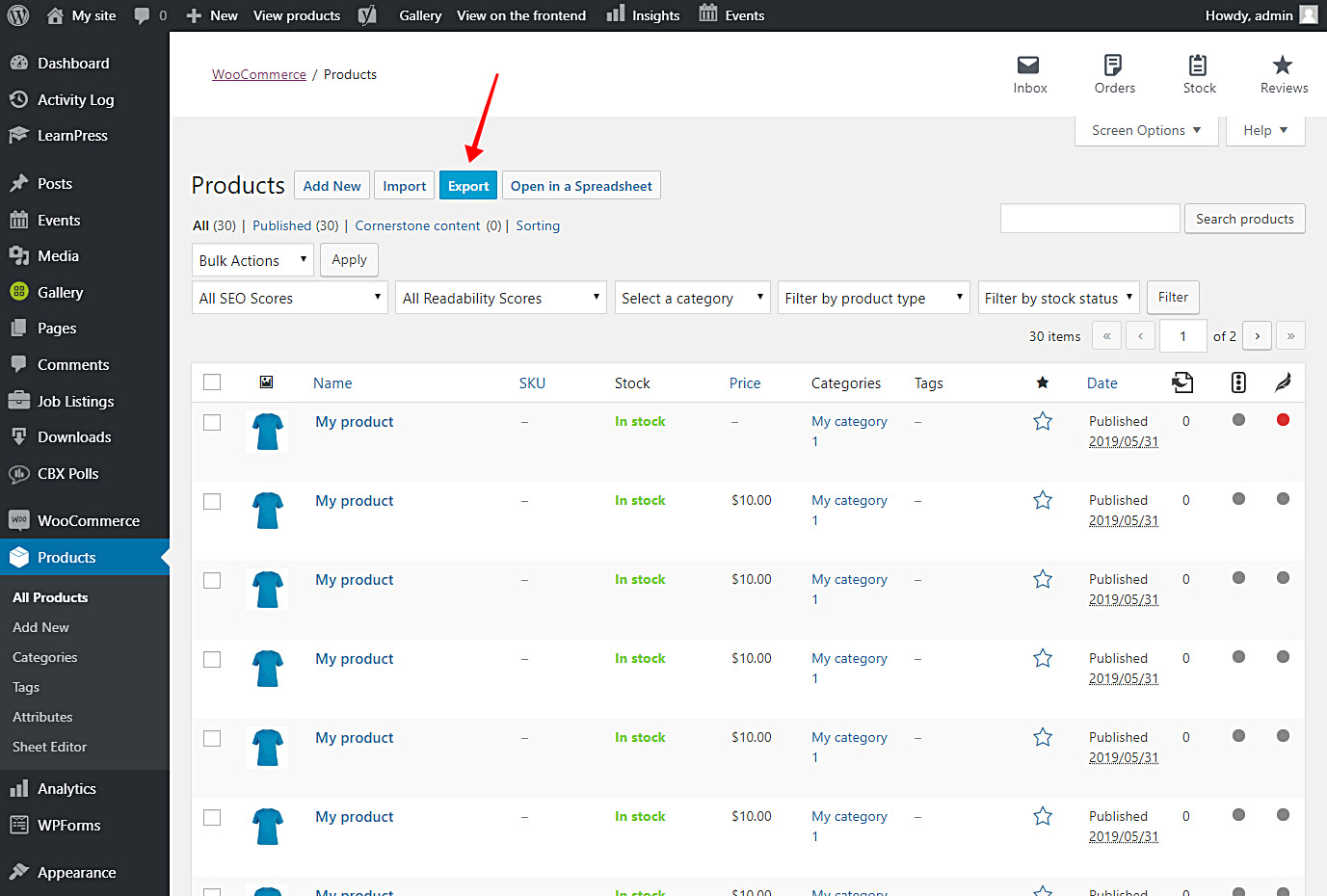 2- View it on the frontend
Now you need to display the products exporter on the frontend by clicking on View on the frontend. This will instantly display the products exporter on the frontend.
3- Configure and publish the page
As you'll see, what our plugin does is to instantly create a frontend page containing the products exporter for your customers to be able to generate a CSV file.
Therefore, you need to configure the page. That means you need to select the page title, URL slug, template, and the menu where it will appear on your site.
Also, you can hide all unnecessary elements. For this, click on Hide element and then click on the elements you want to hide.
You can hide these elements:
The new WooCommerce version's layout
The Export Products heading
Once done, click on Save and your page will be published.
4- See how your page looks
Now, your customers will see the exporter on the frontend, and they will be able to generate their CSV file. Of course, your users will need to login in order to see this page's content and export the products.
How simple!
As you can see, it's really simple to allow your users to export your products to a spreadsheet. It only takes some minutes and our plugin does all the programming job.
You can get it here:
important questions
1- Can I use other plugins to create web apps?
Yes. You can display any admin page on the frontend, and it works with all WordPress plugins.
2- Is the plugin compatible with page builders?
Yes. You can use it with other page builders such as Elementor, Visual Composer, Gutenberg, Divi, Beaver Builder, WP Page Builder, Page Builder by SiteOrigin, Oxygen, Live Composer, Brizy, and many others to create great sites.
3- What if I cannot see this page on the frontend after login?
If you can not view the page after log in, you need to use one of these roles:
administrator
author
shop_manager
shop_accountant
shop_worker
shop_vendor
In case you don't want to assign one of these roles, you can create a new user role with the User Role Editor plugin. This new user role needs the edit_products capability.
4- How many elements can I hide?
You can hide all elements you want. It all depends on what you need.
Just be careful not to hide elements you might need in the future.
5- What if I want to revert the elements I've hidden?
You can revert that. Just click on Revert below the Hide element button.